Men's Flex VRT
Article
flex-vrt-mens-1819
The award-winning Tubbs Men's FLEX VRT Snowshoe delivers top backcountry performance with comfort and style.
La FLEX VRT a été conçue pour offrir une performance de pointe pour les aventures hors-piste. La fixation DynamicFit MD et le système de réglage Boa® permettent un ajustement de grande précision en répartissant également la tension tout autour de la botte. La technologie Flex Trail MD diminue la tension sur vos articulations et vous permet d'atteindre les sommets les plus exigeants.
Men's Flex VRT
Article
flex-vrt-mens-1819
The award-winning Tubbs Men's FLEX VRT Snowshoe delivers top backcountry performance with comfort and style.
Product Zoom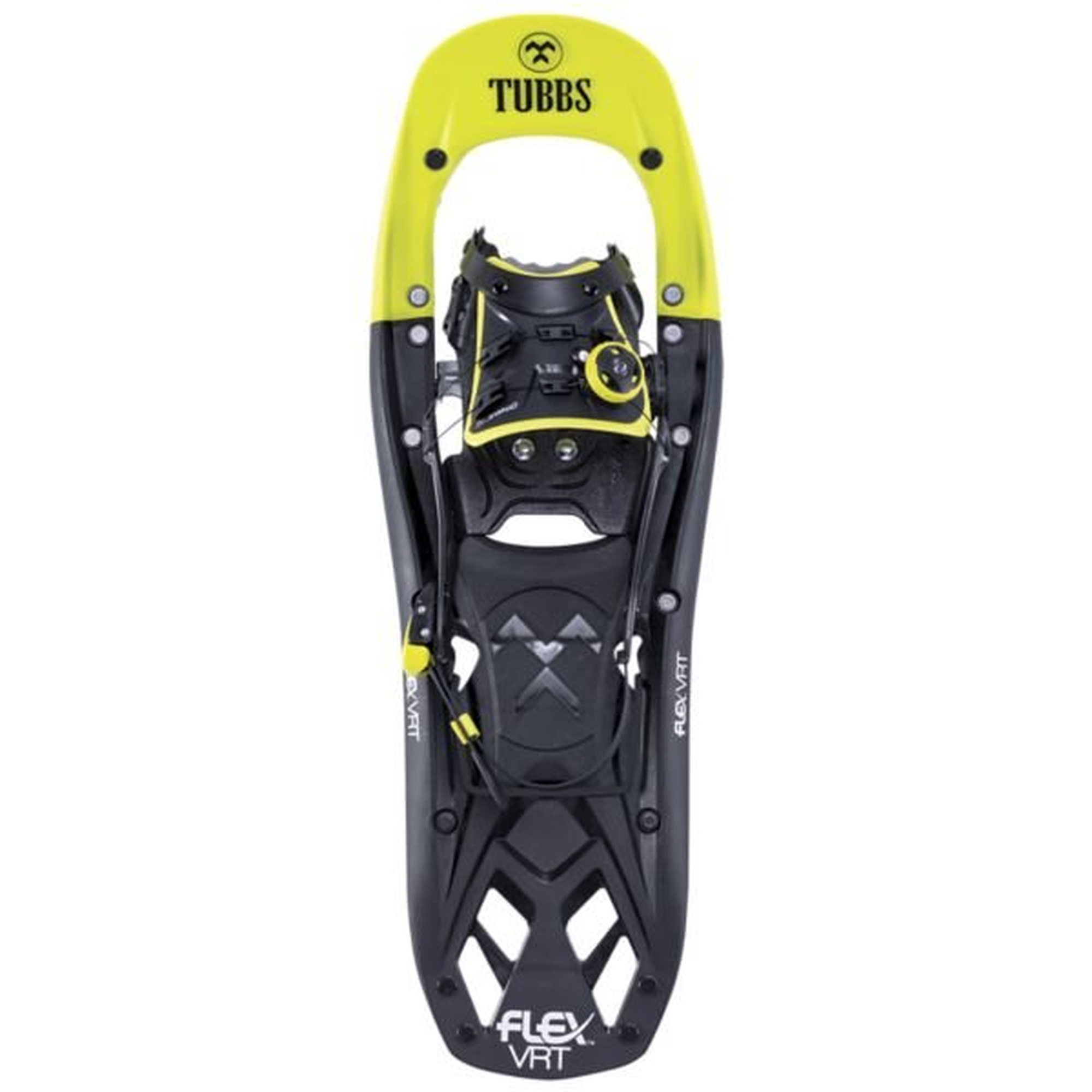 Details
| | | | | |
| --- | --- | --- | --- | --- |
| 24 | 8" x 24" | 4.5 lbs | Up to 190 lbs | 165 in² |
| 28 (XL) | 8" x 28" | 5 lbs | Up to 220 lbs | 192 in² |
*Optimal Load refers to the total weight of the user plus anything they are carrying, such as a pack, equipment, etc. Recommended loads are based on light, dry snow conditions. Powder snow may require a larger snowshoe.
Features:

Weight/Pair: 4.5 lbs/2.04 kg (24")
Sizes available: 24, 28" (XL)
Frame:

Flex Deck™

Decking:

FLEX Tail™,Torsion Deck™

Articulation:

R1.5 Rotating Toe Cord

Control:

DynamicFit™ Binding

Traction:

Traction Rails,Viper 2.0™ Toe Crampon

boa utilisé:

Yes
Featured Technology
Rotating Toe Cord - Rotation Limiter

Rotating Toe Cord design enables the tail of the snowshoe to drop and snow to shed off the tail, reducing cardio-respiratory strain by 7%. The underfoot pivot point also allows the toe traction teeth to bite deeply into the snow when weighted. A rotation limiter prevents over-rotation and shin bang.

DynamicFit Binding

The DynamicFit binding integrates the Boa Closure System with the comfort of EVA foam to produce even pressure distribution around your boot, creating precise fit and optimized control. Releasing the binding is as simple as pulling up on the Boa dial.

Viper 2.0 Crampon

Viper™ 2.0 carbon steel toe crampon with jagged tooth construction maximizes weighted traction and responsiveness.

Traction Rails

Carbon steel toe crampon, ergonomically placed under foot, maximizes weighted traction and responsiveness while 3D curved Traction Rails ensure superior side-hill grip in hard or icy conditions. Progressive molded Snow Brakes, on the deck as well as the Soft Strike zone, improve weighted traction.

FLEX Tail

The ergonomically and biomechanically designed FLEX Tail absorbs shock from heel strike, reducing the amount of stress on your joints and allowing you to snowshoe farther, longer and with less stress on your body.

Active Lift 19°

ActiveLift™ 19° heel lift reduces calf fatigue and Achilles tendon strain on steep ascents.

Torsion Deck

Tubbs' advanced Torsion Deck™ design adapts to variable snow conditions underfoot. The decks allow torsional articulation throughout the body of the snowshoe, enhancing traction, biomechanics and comfort on uneven terrain.